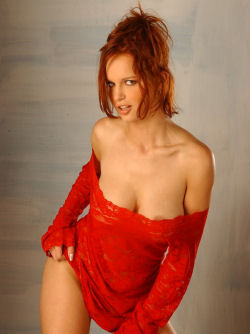 Hey guys, my name is Ramona, but call me Mona for short if you want. My friends do, except they pronounce my name like this: Moaaaaaana — I'm sure you can guess why, *blushes*.  I'm the girl your parents warned you about and the phone sex girl your gf's and wives resent!  Why is that, you ask?  Well for starters, you are staring at me right now instead of her, *wicked grin*  But it's okay, I LOVE the attention!  A girl like me never gets tired of men staring. That's one of the reasons why I am still single (lovin it by the way!) and now a phone sex operator.  I have a hard time keeping my distance from men… especially men who are attached, hehe.  I'm a very "hands on" type of girl, and my mouth (oral skills) would leave you breathless *wicked grin*  Oh, but if you are married, then I probably shouldn't be telling you all of this, right?  Ha, well then, I can keep a secret if you can… *smiles*
You know what they say about redheads — red on the head, damn hot in bed!  I have a somewhat kinky side too — I can tie you up, handcuff you to the bed post and have my way with you.  I am a switch, so I can be a phone sex mistress or a submissive play toy for your amusement.  I like to experiment sexually, so don't be afraid to tell me what's on your mind. Whether it's a rape fantasy or some forbidden taboo phone sex scenerio, I'm the hot phone sex girl that loves to roleplay just about anything. If it gets your dick hard, let's do it!
Phone sex should never be boring, so feel free to explore your wildest fantasies with me.  I am bi-sexual (I've known this since grade school) and I enjoy the pleasures a woman can provide, not to mention how turned on men get by watching me with another.  If two girls making out gets you hot, call and ask for a two girl phone sex call.
Phone sex with me is anything goes, no matter how kinky or taboo your phone sex fantasy is. The only limit is our imagination…..