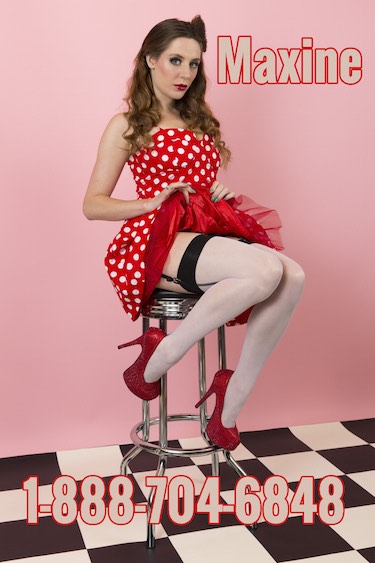 Hello, its your GFE pinup fox, Maxine! I am the sweetest tease and boy, do I love body worship. Its so sensual and erotic! I am whats known as a stocking and leg fetish phone sex tease. As a matter of fact, thats not the only place on my body that one could fetishize! There is my gorgeous hair, my sexy feet, my round ass, my panty covered, hairy, pussy, my boobs, my lips..you name it! I want you, to want me, from head to toe!
As a pin-up queen I love to play dress up and I have a huge collection of vintage lingerie. Silky stockings are a favourite of mine. And just for an FYI? You cannot wear stockings without garters. How tacky! The kind that stay up by themselves are just trashy! I only wear the best and the sexiest. Have you noticed just how long my legs are, and how curvy my gams are? Does the naked bit of thigh at the tops of my stockings driving you insane? Would you like to see my panties? Would you sniff and lick the wet spot in them? Did you know that I have a hairy pussy? Thats a fetish all by itself, yes? I am a retro chick who loves the art of teasing and pleasing or even teasing and denying, if I am feeling a bit wicked that day.
When you kneel, in front of me, with that giant cock out I want you to massage my legs and slip off my heels so you can suck, erotically, on my toes. Oh my! That is such a turn on. Body worship can be so hot! Want to roll one of my stockings off and wrap it around your cock? You could beat off with it while you suck my toes! Oh and I love missionary position, with my ankles on your shoulders, so you can suck my toes while you pump your fantasy fetish girlfriend to orgasm!
We could even roleplay that I am your sexy boss or neighbour, who wears sexy stockings, heels, and short skirts! I know how to be a good phone sex tease and slowly un-cross and re-cross my long legs! Want to watch me put on my stockings or adjust them? What a sexy peep show that would be!
Or maybe you are the peeping tom…the sexual fetish variations are endless!