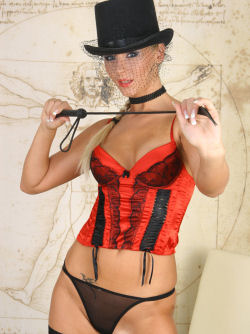 Ladies & gentlemen, fanatics & phone sex enthusiasts, welcome to Cherry's private freak show! What are you waiting for? Step right up, with your cock in hand, & the excitement will commence. Cherry, is a sexual rarity who has no taboos. She is extreme & will keep you under her hypnotic spell & longing for more.
With the exotic body of a contortionist, the lips of a sexual Goddess, sparkling blonde hair, & seductively stormy gray eyes, she can mesmerize any lusting fool. Just take a look at her perfect tits & rock hard nipples. Those tits are perfect for cupping, cradling, cuddling, squeezing, fucking & the nipples to pinch, twist, lick, bite, & suck. Oh & the naughty bits down below, a fuckably wet pussy, shaved smooth, sweet glossy lips, hard clit, & tight for your cock cunt. To complete her sexy ensemble, she has a strikingly firm ass. Also, amazingly fuckable!
Cherry, is such a fetish freak. She just can't seem to resist the fucked up fucks. It is her rush, like jumping through a ring of fire naked. She loves the twisted. The more edgy the better. She's a nympho like no other.
The possibilities with Cherry are unrestricted..
Some examples of her private sessions include:
– No Taboos
– Anything Goes
– Erotic Hypnosis
– Cuckolding
– Cum Sluts
– Forced Femme
– Panty Boys & Sissies
– Forced Intoxication
– Voodoo (After all, Cherry is originally from Louisiana. More on that later though.)
– Blasphemy
– Role Play & Fantasies
– Bizzare
– Sensual & Erotic
– GFE
– Strap-On
– Forced Bisexual
– 2 Girl
– Tickling, Teasing, & Torture
– Humiliation
– CBT
– BDSM
– Domination/Submission
– Mutual Masturbation
– Voyeur
This list is just the beginning of what Cherry will do. Have something specific that brings your cock to attention? Just contact Cherry via IM or call, she'll be waiting to blow you away with the freakiest phone sex ever.