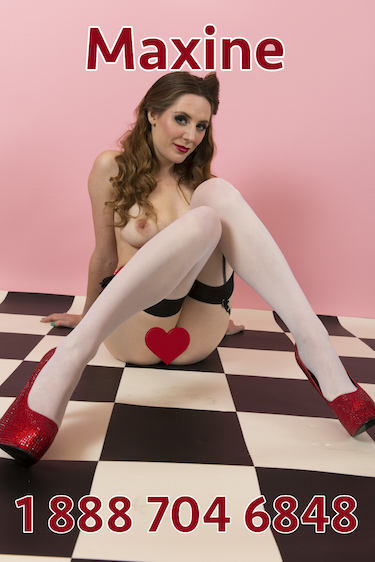 Hiya guys, its your hot tease, Maxine! Do you crave GFE phone sex? I want you to know that I make the perfect fantasy girlfriend. I can be sweet, playful, and an erotic sex-kitten in the bedroom. I am a multi faceted sweetheart who wants to have more then just a quicky with you, not that quickies are a bad thing *wink*. I really want to have a whole cyber date with you on the phone. I am a good listener, a natural conversationalist, and I am pretty cute, too. Sometimes, you just feel lonely or you need a real woman to talk to. Other times, you want someone who can be sensual and attentive to your needs. I am a natural people pleaser and I happen to like getting to know my gentleman callers.
I want to help you relax and unwind. We can share a bottle of wine and chat about anything. As my fantasy boyfriend I want to get to know everything about you. Whatever you want to share with me, darling. I also want to be the best phone sex GFE you have ever lusted after. I am willing to indulge you in whatever kinks or erotic play you like and I hope you would be ok with me masturbating with you. I like mutual masturbation. I find it adds to the excitment we both feel when we hear each others moans of pleasure. Let me that sensual girlfriend that you truly crave.
If you have any fetishes you like to explore, like hair, feet, stockings, high heels, panties, you name it, dont be afraid to tell me. I am that non judgemental girl who only wants to please you and for you to please me.
Call 1 888 704 6848 and ask for GFE Maxine.
yahoo: polkadot_princess
Aim: polkadot_princess69