Quick question — I wonder how many guys out there hide their desires, fantasies, fetishes, and all-around kinky ideas because they are afraid of how their woman would react? I bet that number is way too frigging high and that is such a shame! That is why I am always into anything goes phone sex. I refuse to judge anyone for what turns them on. I mean, most of the time it is just a fantasy, and it's not like anyone is getting hurt. So why not talk or role-play it out and see what happens. Vanilla is fun and tasty, but there are so many other flavors out there for us to explore and experience. I never judge and often help expand the fantasy and push the envelope just to see how much we both can enjoy it. You will never freak me out by telling me what you want to talk about.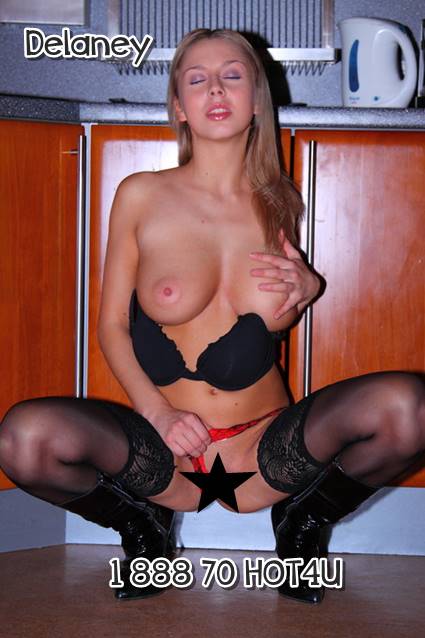 Sometimes, guys are so shy to tell me what is on their minds and I have to reassure them that their time with me is a safe space and they can confess their deepest and darkest desires to me without any fear. I have heard lots of things and I have never once clutched my pearls! Who wears pearls nowadays anyway? All I want to do is get you off and get you addicted to me so that we can have fun over and over again. I don't care just how out there you think your fetish or fantasy is, I will hold your hand and experience it right with you. Unlike your girlfriend or wife, I will never say no to you. It is simply not in my sexual vocabulary.
So call at 1-888-70-HOT4U and ask for Delaney so that we can get into your anything goes sexual phone sex fantasy.