Welcome to the dark side, poppets. I am your phone sex Goddess, the path to your true salvation through a portal made of delicious sin. I am here to be worshipped by you, and, through me, you will also worship the Dark Lord, the Morning Star, Satan himself. I know you've been looking for that something that you can't put your fingertip on, that mysterious thing that makes your blood pump all the way down to your cock. Well, look no more because I'm here.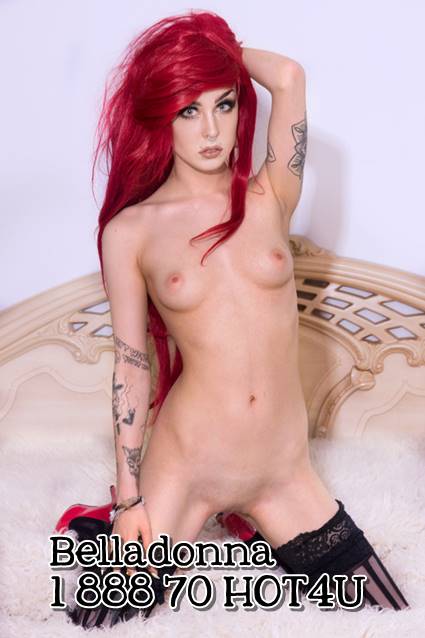 Bow down until your balls drag on the ground. Show your phone sex Goddess your deepest, darkest self. Give me the ultimate gift of your soul so that I may deliver it unto my Master and King, but only after you've given me your cock. That I keep for myself, of course. Your worship isn't meaningful enough without a sacrifice, which is why I want your cock. You're a man – it's probably the most important thing you have. It's definitely the thing that makes you weak. You know it, and I know it – your existence only makes you worthy to be down on the ground at my feet, begging for the favor of Lucifer to save you from your otherwise meaningless life.
Tell me, peon, do you think you have what it takes to please a phone sex Goddess of my magnitude, especially because you also have to please our Dark Lord and Master in the process? If you possess even a modicum of both courage and curiosity, then you should take a step forward and claim your place in His Dark Army, with me, your Goddess, here to guide you through the darkness. Soon you'll realize it is exactly where you're meant to be, and that's when that warm feeling will move through your body, down into your balls, and right out through your cock…
Surrender to your phone sex Goddess, Lady Belladonna, by calling 1 888 70 Hot4U tonight!